Master Schedule
Friday, September 6th
 7:00 – 10:00 p.m.      WAS Welcome Reception & All Acro Reunion New Event!
Room: Florentine E
Check-in and pick up your Congress name badge, then... Join us  - - To celebrate all 6 of our diverse disciplines. To honor our history of 258 past Legends, and, to meet and welcome the Class of 2019 inductees. We have a dedicated room, tasty hors d'oeuvres, drinks, plus, photo opportunities and drawings for special gifts - - you won't want to miss this fun event! 
Hosts: WAS President, David Jacobs and WAS Board Members.
Includes one drink ticket and hors d'oeuvres. Cash bar available.
Casual dress suggested.
Saturday, September 7th
9:00 -11:00 a.m.          WAS Board of Directors Meeting (Firenze Room)
9:00 –11:30 a.m.          WAS Congress & Banquet Sign-in (Foyer outside Firenze Room)
Please check-in and pick up your name badge. 
Your name badge is required for admittance to Congress Presentations & Banquet.
1:00-3:30 p.m.            WAS Congress Presentations (Room: Florentine B)
1:00 pm - Meet the Legends Q & A - This features each of our 2019 honorees; giving them the time to share a little more about themselves and what they feel contributed to their great accomplishments.

2:30 pm - Special Presentation!
Louanne Madorma-Williams
Director of Casting & Artistic Implementation for Le Rêve, at the Wynn, Las Vegas.
 "

Mentoring Athletes from Competitive Sport to Performance."
Louanne's dynamic presentation will cover: what separates Le Rêve from other Las Vegas shows and what comprises life as a performer (especially in Las Vegas), along with unique insight into mentoring athletes through the challenging transition from sport to performance.
Congress & banquet sign-in will be available.
6:00 – 7:00 p.m.          WAS Banquet Reception Hour (Room: Florentine E)
Take this opportunity to meet up with old friends and welcome new WAS members, family and guests. Cash bar will be available.
7:00 p.m.                        WAS Gallery of Legends - Hall of Fame Banquet*
Room: Florentine E
*Men: Coat & tie (black tie optional), Women: appropriate evening attire.

       

       
Sunday, September 8th   
9-12 noon                        WAS membership Meeting (Sienna Room)
You must be a current/paid member to participate in voting.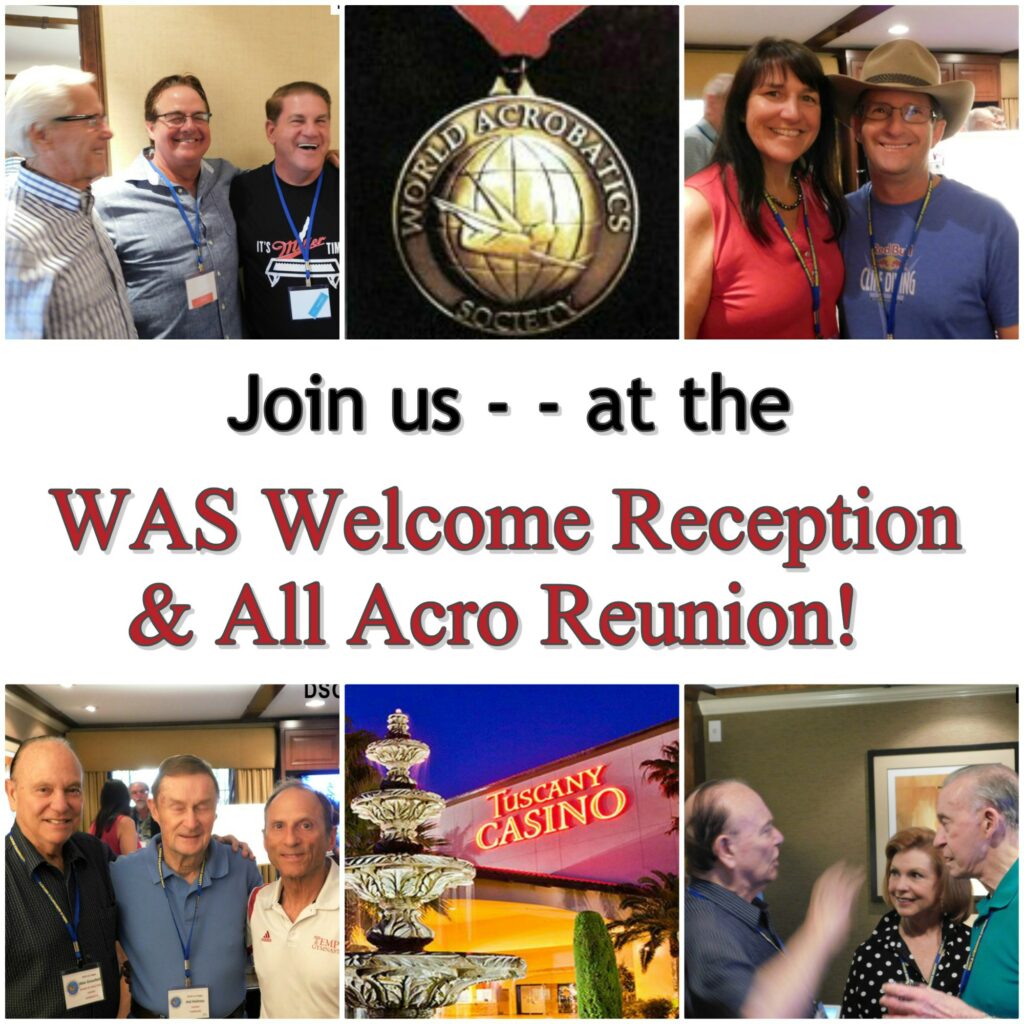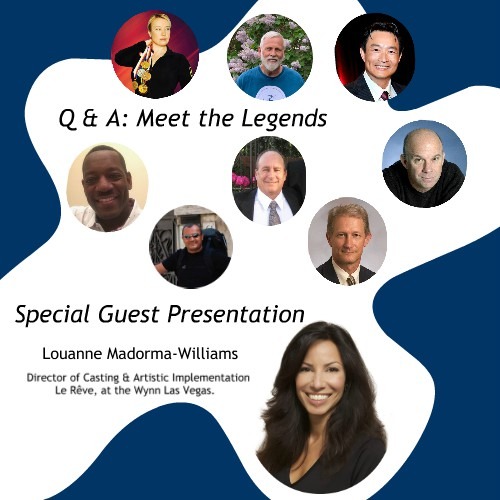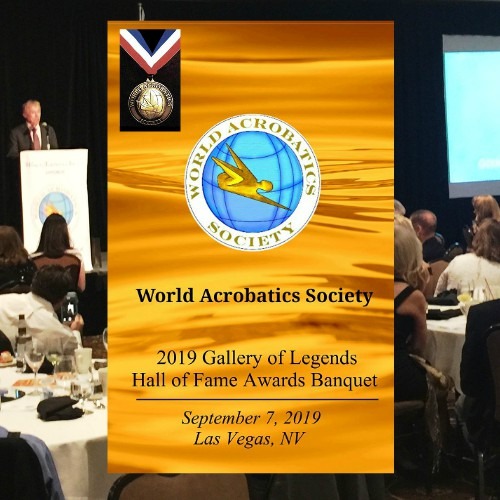 1. CONGRESS REGISTRATION & COSTS
Please PREPAY online. Note: Step 1 - Please complete online banquet information form, Step 2 - Please complete online payment.
The "Package" includes:
Welcome Reception-Reunion (Friday night), Afternoon Presentations (Saturday), Gallery of Legends – Hall of Fame Reception & Banquet (Saturday night), Membership Meeting (Sunday morning).  
* * * * *
*Note: Register early and save!  Due to the hotel requiring a final count for prepaid banquet dinners, online registration and payment will no longer be available after August 31.  You will still be able to register and pay for the banquet onsite, at the door, Saturday, September 7, - - 

the onsite banquet cost at that time will be $130/person and dinner selections may be limited.

 
If you do not plan to attend the full weekend of Congress activities, you can purchase the Friday night "Welcome Reception & All Acro Reunion" as a single event:
2. Hotel Information
Location:                            Tuscany Suites and Casino ~

255 East Flamingo Road, Las Vegas, Nevada 89169
Hotel Telephone:             (702) 947-5925
Special Room Rates:        Friday & Saturday $129.00/night. 

Special rate is available only until August 1, 2019
Book by phone:                  1-877-887-2261, WAS Group Code:  0919WORL (for special rate)
Book Online:                      http://www.tuscanylv.com/ Group Code: 0919WORL (special rate)