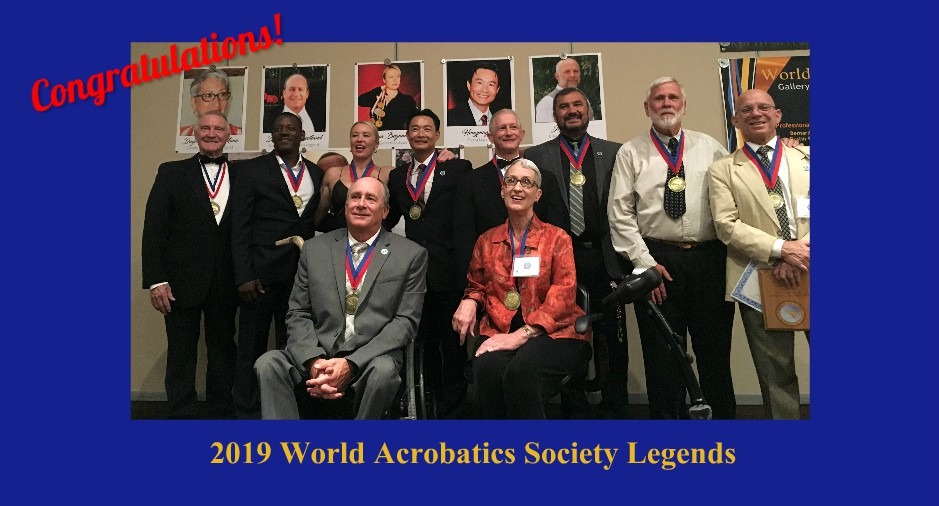 World Acrobatics Society
Gallery of Legends - Hall of Fame
Class of 2019
This year's impressive group of individuals span a variety of acrobatic disciplines, having shown profound success in their particular discipline as well as established prominence and peer recognition.
2019 Congress highlight, photos, and more...
Acrobatic Gymnastics
Dr. John Sweetland and Robert "Bob" Monahan
The John Sweetland-Bob Monahan acrobatic duo performed together for nearly 15 years and helped lay the foundation for acrobatics becoming a competitive sport.
Even though John contracted polio as a child, which affected the use of his legs, he continued to be involved in athletic activities. Taking advantage of his upper body strength in gymnastics, he specialized in pommel horse, still rings and hand balancing.  John and Bob met each other in New York at Jones Beach, where Bob was learning acrobatics from Hugo Domenech; a world class acrobatic performer. John and Bob soon teamed up, studying under Hugo and performing at gymnastics events and other athletic shows. When the United States Sport Acrobatics Federation (USSAF) was formed, they quickly dominated the Men's Pair Balance Exercise division as National Champions in 1976, 1977 and 1978. In addition, Bob Monahan served as a board member for the USSAF, as well as a judge and also taught the USSAF judging courses.
When both retired from competition, they carried their success into other ventures.  Bob opened Cherry Hill Gymnastics on Long Island. Eventually he moved to Breckenridge, Colorado, started snowboarding and became involved in teaching it. Unfortunately in 1999, Bob died as the result of a ski accident.  John is living in New York.  He received a PhD in Clinical Psychology and has a private practice there. He remains physically active and athletic to this day.
Artistic Gymnastics
Svetlana Boguinskaia achieved the highest accolades in her sport as a competitor participating in three separate Olympic Games; on behalf of the Soviet Union in 1988, the Unified Team in 1992, and for Belarus in 1996. She received 3 gold Medals, 1 silver and 1 bronze as well as having won 26 additional international medals in various World Championships, European Championships, World Cups and Goodwill Games competitions.
Svetlana now resides in the USA, and continues to inspire the public through her work with the Discover Fitness Foundation; assisting children with special needs to participate in both recreational and competitive gymnastics.
Diving
Hongping Li was among the first Chinese divers to participate in any competition outside China. Representing China, he received gold medals for his platform diving at the 1981 FINA World Cup and at the 1981 World University Games and he finished fourth on the 3-meter springboard at the 1984 Olympics.
While attending the University of Southern California (USC), Hongping Li won the NCAA title in 3-meter springboard, achieved All-American honors in 1-meter springboard and graduated in 1989 with a Bachelor's degree in physical education.
In 1999, he returned to USC as their Head Diving Coach and has received numerous honors.  He was chosen as "Diving Coach of the Year" by the NCAA, Pac-10 and the US Olympic Committee.
Extreme Sports
A two-time World Cup Aerial Champion in 1978 and 1979, Jeff Chumas went on to become Freestyle Program Director for the US Ski Team from 1985 to 1995. His skills and knowledge of the sport then moved him into the position of Manager of Slalom, Moguls and Aerials Sport for the 2002 Winter Olympics (1998-2002). In addition, Jeff co-produced more than 20 World Cup Freestyle Competitions.
Transitioning into televised broadcasting, Jeff provided commentary from 1980 – 2000 for ABC Sports, CBS Sports, ESPN Sports and NBC Sports. He also provided the commentary for ABC in the freestyle broadcast of 1988 Winter Olympics, Calgary, Alberta.
Jeff now excels in all aspects of stunt work for motion picture and televised productions; spanning the roles of stuntman, stunt rigger, stunt coordinator and as performer. His over 80 motion picture credits include: Westworld, Captain America: The First Avenger, The Girl with the Dragon Tattoo and many more.
 Professional Acrobatics
Daniel COLA was a member of the French Trampoline National Team from 1978 to 1982, when they won the team title at the World Championships in 1982.
In 1993, COLA joined the cast of Cirque du Soliel, performing in a trampoline act for the show Mystère, in Las Vegas. He then toured Asia and Europe with the show Alegria. In 1998, COLA returned to Montreal where he created the first "Trampowall" act for La Nouba; a Cirque du Soleil show residing in the Walt Disney World Resort in Orlando, Florida. From 2005 to 2012, COLA was acrobatic coordinator for: The Beatles LOVE, Wintuk and VIVA ELVIS.
Daniel left Cirque du Soleil in 2012 to pursue his passion for set design and stage direction; merging together figure skating and circus arts for the National Exhibition Center of Toronto, followed by the circus shows TIC TOC in 2013 and MIRAGE in 2014. He continues to contribute to the circus arts as a consultant for human performance and acrobatic design.
Trampoline/Tumbling
Roger Walker grew up in Brooklyn, New York.   He was a member of the Flip City Tumblers and trained under the coaching direction of the prolific David Green, Sr. At the age of 16, Roger made the four-hour round trip, four days a week to train at Flip City in Newark, New Jersey and only missed one practice session in a two-year span.
Roger represented the USA in Platform Tumbling at the World Friendship Cup in Portugal in 1989.  From 1988 to 1997 he earned numerous other national and world titles in tumbling. He was a member of the Men's Senior Elite Tumbling Team that took gold in 1996 at the World Championships and he won a silver medal at the Canada Cup in 1997.
Roger was twice selected as the National Age Group "Coach the Year" for Tumbling and is looking forward to the opening of his new T&T Ninja Warrior facility this fall.
Lifetime Achievement Award
While attending Michigan State University, Dave Thor was the Big 10 all-around champion for three straight years; 1966, '67 & '68. He won third in all-around at the NCAA Championships in 1966 and 1968; and received the Nissen Award in 1968. Dave competed for the USA at the 1967 Pan American Games, winning four medals; a team gold and three individual bronze medals in all-around, pommel horse, and floor exercise. He was an alternate at the 1967 World University Games. He was the top US Olympic All-Around Gymnast in 1968 and All-Around Champion (gold medal) and won gold medals on pommel horse, floor exercise and parallel bars as a member of the US Team at the 1969 Cup of the Americas, Mexico City.
Dave earned a Master's degree in Educational Research from Southern Connecticut State University, while serving as the school's assistant coach to Head Coach Abie Grossfeld. He then went on to become Head Gymnastics Coach for Temple University in 1973 through 1976. Three years after moving to California to teach high school mathematics, Dave opened his own gym called Sonoma Gymnastics Academy (1980-1986).
He became increasingly involved in the sport of hang gliding and in 1980, took his first flight in the United States Hang Gliding Championships. In 1984 Dave placed 7th in the Masters of Hang Gliding (International) Championships.  He took his last flight in the USHGA Championships in 1990.  Settling down in Utah, Dave taught at Kennedy Junior High School for 24 years.
Golden Achievement Award
Dr. Jay Whelan was an outstanding national and international gymnast who is a lipid biochemist studying the role of dietary bioactive compounds as they relate to the biomolecular mechanisms in the treatment of cancer, vascular diseases and diabetes.
Jay received a Bachelor's degree in Biochemistry from Southern Connecticut State University, (1976); became a Master of Public Health at the University of North Carolina at Chapel Hill (1982); earned a PhD in Nutritional Sciences from Penn State University (1988); was Supervisor of Research of the Lipids Research Laboratory at Cornell University (1988-1991) and Director of the Affymetrix Gene Array Core Facility at the University of Tennessee (2003-2013). Currently, he is a Full Professor and Head of the Department of Nutrition as well as the Interim Head of the Department of Public Health at the University of Tennessee. He is now conducting a clinical trial with patients to clear blocked blood vessels (Percutaneous Lower Extremity Arterial Revascularization) with the vascular surgeons at University of Tennessee Medical Center.
During his gymnastics career, Jay was successful as well.  In 1973 he was a team alternate for the World University Games. In 1974 at NCAA College Championships, he was first in the all-around, floor exercise, parallel bars and high bar as well as a member of the USA team for the World Gymnastics Championships.  He received the Nissen Award in 1975.  He was team captain of the first USA team to the People's Republic of China in 1976.  He was the Assistant Gymnastics Coach at the United States Naval Academy (1976-1979) and Head Men's Gymnastics Coach at North Carolina State University (1979 – 1980) prior to resuming his academic career.
Charlie Pond Service Award
Dagmar Nissen Munn "grew up bouncing on trampolines" and competing in gymnastics. She is the daughter of George Nissen (2001 WAS Legend, inventor of the modern trampoline) and is married to Ron Munn (2001 WAS Legend).  With a Master's degree in Dance and a strong will to make everything better, Dagmar has been an invaluable volunteer within the World Acrobatics Society for many years.
In 1992, Dagmar chaired the WAS Marketing & PR Committee implementing a number of their strategies and designed a WAS information brochure. She was a WAS Congress presenter in 2009 and 2010 and a contributor to the WAS newsletter (2009, 2010, 2018, 2019).  In 2015, she assisted WAS President David Jacobs, in the transfer and complete rebuild of the new WAS website. While continuing on in the role of webmaster she added over 150 Legend videos to the WAS YouTube channel and increased activity on the WAS Facebook page exponentially. She continues to assist WAS and event organizers by streamlining the online reservation and payment processes, creating graphics for the Congress banners and booklets and helps wherever and whenever needed. Her creative thinking and honest opinions have helped the WAS and its leaders move forward in their progress.
Diagnosed with ALS in 2010, Dagmar has since become a wellness advocate for the ALS community. She writes several online blogs and even authored a book for other ALS patients that is filled with motivation and tips on resilience.