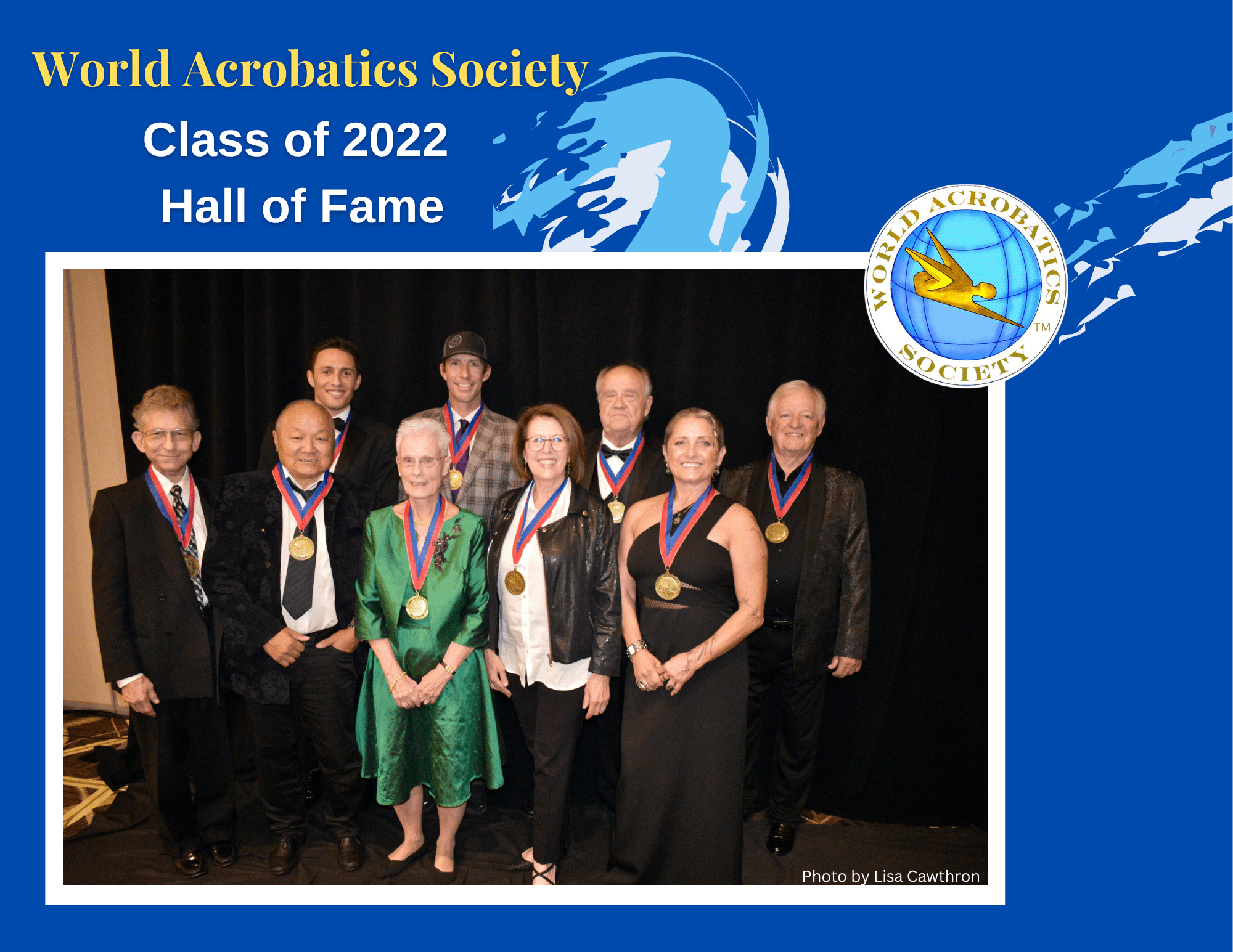 Las Vegas, NV - - The World Acrobatics Society celebrated its 26th anniversary (1996-2022) at its annual "Hall of Fame" banquet on September 10, 2022, at the Tuscany Casino & Suites in Las Vegas. An audience of nearly 160 people led by Emcee Donny Ray Evins, former gymnast, and now Las Vegas entertainer, honored the Class of 2022 inductees who were selected for their high level of accomplishment and contributions to the acrobatic community.
Including these nine honorees, the WAS Hall of Fame has inducted 316 individuals from around the world. These outstanding individuals have been selected for their excellence in their specific disciplines, with many continuing to stay involved in a professional and exemplary manner. In addition, they have contributed to society and the growth of acrobatics on a national and worldwide basis.
CONGRATULATIONS!
Lifetime Achievement Award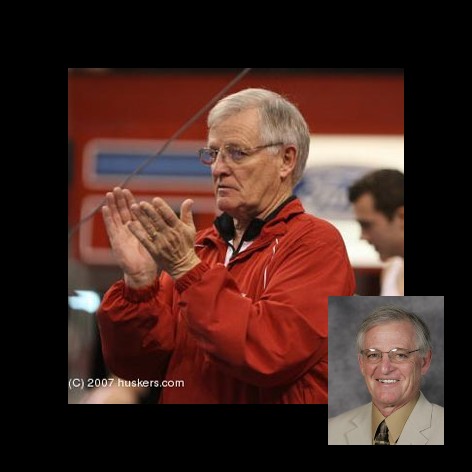 Francis Allen
Francis Allen is a legendary figure at the University of Nebraska and in the world of gymnastics. He was involved with the Husker gymnastics program for nearly 50 years; first lettering as a gymnast for three years (1962-64), serving as an assistant coach for five seasons (1965-69), and then leading the program as head coach for 40 seasons (1970-2009). As a Husker athlete, Allen was the Big Eight champion on parallel bars as a senior in 1964 and was Nebraska's first All-American in that event the same year, finishing fourth at the NCAA (National Collegiate Athletic Association) Championships. Allen earned his degree in physical education from Nebraska in 1965.
Allen is the longest-tenured head coach in the history of Nebraska Athletics. He led the Huskers to eight NCAA team championships, including five consecutive titles from 1979 to 1983. In addition to the eight national titles, Nebraska finished as the NCAA runner-up seven times while posting a total of 20 top-five national finishes. His gymnasts won 42 individual national titles, including nine NCAA all-around crowns, and claimed a total of 171 All-America awards. At the conference level, Nebraska won 14 team championships and produced 92 individual champions. Allen also coached four Nissen-Emery Award winners as the nation's top gymnast and tutored 11 CoSIDA Academic All-Americans. Allen himself was an eight-time National Coach of the Year. Internationally, Allen coached nine Olympians at Nebraska and served as the head coach of Team USA for the 1980 and 1992 Olympics, although the U.S. boycotted the 1980 Olympics.
acrobatic gymnastics Legend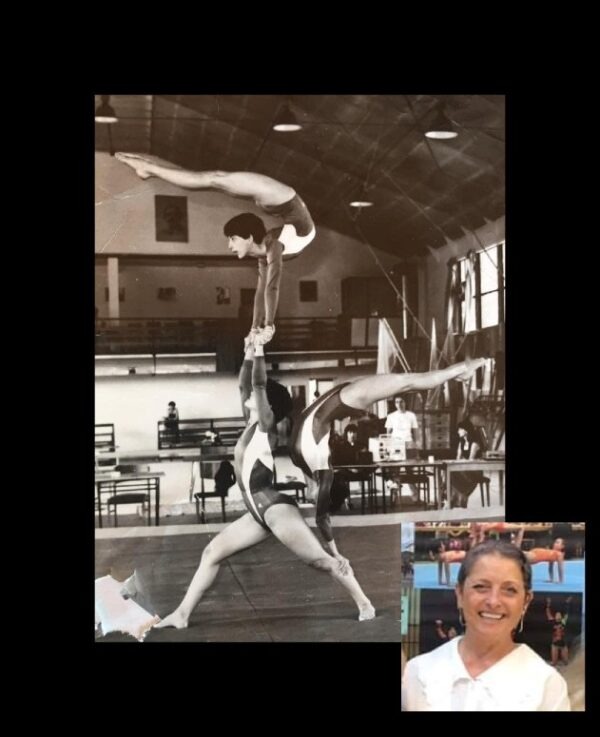 Antoaneta Kiselichka
Born and raised in Bulgaria, Antoaneta (Milovanova) Kiselichka was introduced to gymnastics at the age of 14 when her family moved to Kyustendil and it was included in her school's curriculum. Soon after, she attended an outdoor acrobatics competition and fell in love with the sport. One of the coaches there that day was Orlin Kiselichki, who saw her in the audience and invited her to join his new Sport Acrobatics & Trampoline Club. Kiselichka showed up the next day and began training six days a week, winning her first medal in acrobatic power tumbling. When her sister Milena joined the club, the two formed an acrobatic duo and for several years held the title of Bulgarian National Champions. They added another partner and competed in group (trio); winning the Bulgarian Acrobatic Championship, receiving Masters of Sports titles, and joining the National Team of Bulgaria. Entering international competitions the trio won medals in Bulgaria, USSR, Germany, Belgium, Poland, Germany, and the USSR.
In 1981, Kiselichka partnered with Snejana Andonova; they won two Gold Medals and a Silver at the 1981 World Cup, Widnau, Switzerland; three Gold Medals at the 1982 World Championships, London; three Gold at the 1982 European Championship, London. Plus, two Gold Medals and a Silver at the 1983 Acrobatics World Cup, Cedar Rapids, Iowa. Kiselichka received the title "Honored Master of Sports of Bulgaria," in 1981, which is the highest sports title in Bulgaria. In addition, she had the unique honor of holding world titles in both women's pair and women's group.
Kiselichka graduated from the National Sports Academy, Sofia, with a degree in Sports Acrobatics Coaching and Physical Education Instruction. She married her coach, Orlin Kiselichki in 1981 and following her retirement from competition, joined her husband to coach at their Sports Acrobatics Club in Kyustendil, where their club produced many acrobatic and trampoline National and International Champions. Their son Orlin Jr. was born in 1986 and became a Sports Acrobatics Junior Champion of Germany. In 1990, she was invited to Czechoslovakia to coach their mixed pair for the World Championships held in Augsburg, Germany.
Upon invitation to coach Germany's acrobatic groups, the Kiselichki family moved to Germany in 1991. Their club, SAV Mainz-Laubenheim, produced National Champions, members of the National Team and their athletes participated in European and World Championships. From 1993 to 2014, Kiselichka was Head Coach of the Rheuland-Pfalz region in Germany. She also worked as a choreographer for the German National Team from 1991 to 2010. In addition to serving as an international category judge for numerous world and European competitions, Kiselichka conducted coaching and refereeing courses in Germany.
Retiring from coaching in 2014, Kiselichka maintains close relationships with her former athletes, many of who have become coaches themselves. She is always happy to offer help and share her experiences with them. She is also grateful for the support of her husband and coach, Orlin, sharing that Sport Acrobatics connected them and since then, they have always been together. "My family and my sport are my life!"  
Professional Acrobatics Legends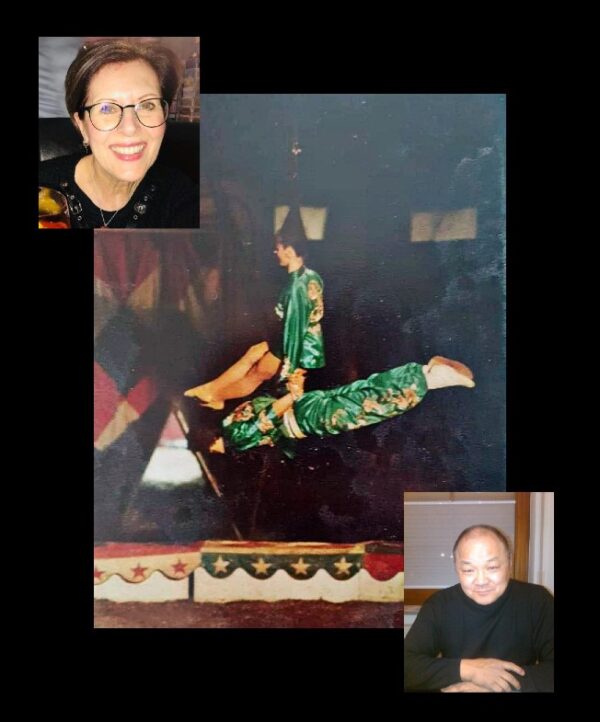 Fredi & Edith Chy
In 1955, at the age of seven, Fredi Chy began performing in his family's acrobatic act; joining them to perform in the major circuses of that time. He met Edith in 1970, while his family was performing with the Circus Knie in Switzerland. At the time, she was working in the circus office. Following their marriage, Edith learned to perform the traditional Chinese hair-hanging act; her own version featured Edith hanging from her hair with Fredi hanging from her hands in a back lever. In 1974 they formed the Chy Fu Dey Duo, and for the next 22 years, their venues included the best circuses, amusement parks, casinos, variety shows, and top television shows in Europe and Scandinavia. In 1985, their daughter Melanie joined the act with her cup balancing performance, trained by her father Fredi, and the Duo Chy Fu Dey became the trio, Chy Fu Dey. Melanie Chy received the Silver Medal at the Circus Gala Festival in Paris in 1988 for her cup balancing performance.
When Edith retired from her hair-hanging act in 1998, Fredi and a Mongolian partner formed the duo, Kung Fu Masters. In 2002, Kung Fu Masters negotiated a two-year contract with Ringling Brothers, performing in the blue unit.  Fredi then formed the Chinese Acrobatic troop the Shaolin Wushu Warrior Acrobats performing in Germany with the famous Krone Circus for five years. Finally retiring from performing, Fredi became a booking agent, specializing in contracting acrobatic troops from Eastern Europe and Asia into venues in Western Europe; a profession he continues to do today. Fredi and Edith reside in Germany.
Artistic Gymnastics Legend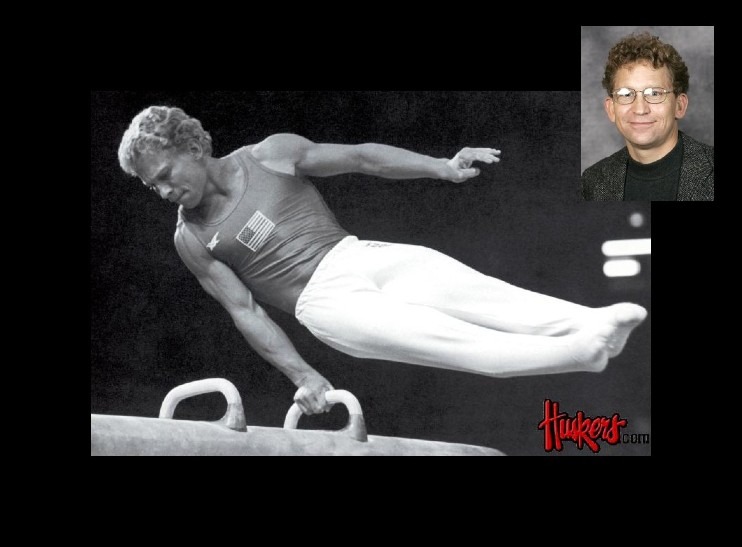 Jim Hartung
Jim Hartung began his gymnastics career at the Omaha Sokol gymnastics club in Nebraska. There, he was coached by Phil Cahoy, Sr. whom he credits as his most influential coach. Jim trained at this club for 12 years and under Cahoy's leadership, Jim led the Omaha Sokol team to three state titles.  As a member of the University of Nebraska's men's gymnastics team, Hartung's seven individual National Collegiate Athletic Association (NCAA) titles are tied for the most in NCAA history and include all-around titles in 1980 and 1981.  He was a three-time NCAA champion on the still rings and a two-time national champion on the parallel bars. Hartung won two individual titles at the 1980 NCAA Championships, three at the 1981 event, and two at the 1982 NCAA Championships.
Hartung was a member of the USA team competing in the World Championships in Fort Worth, Texas, USA, (1979); Moscow, USSR, (1981); and Budapest, Hungary, (1983). At the USAG Open National Championships, he won 14 Gold Medals: All Around (1981); Side Horse (1980, '81, '82, and '84); High Bar (1980); Vault (1978 & '82); Floor Exercise (1981 & '82); Parallel Bars (1978, '80, '81, and '82). Hartung also represented the USA as a two-time Olympian. Although he did not compete in the 1980 Olympics due to a U.S. boycott, Hartung was a member of the 1984 squad that won the first and only men's gymnastics team gold medal in the U.S. In 1982, Hartung won the Nissen Award (gymnastics' "Heisman"). Hartung was inducted into the U.S. Gymnastics Hall of Fame as an individual in 1997, and then in 1984 as a member of the gold medal 1984 Olympic team. In 2006, he and his 1984 teammates were inducted into the U.S. Olympic Hall of Fame.
Hartung is a U.S. men's gymnastics brevet level judge.  In 2006, he returned to the University of Nebraska as an assistant coach and continues in this capacity today.
Diving Legend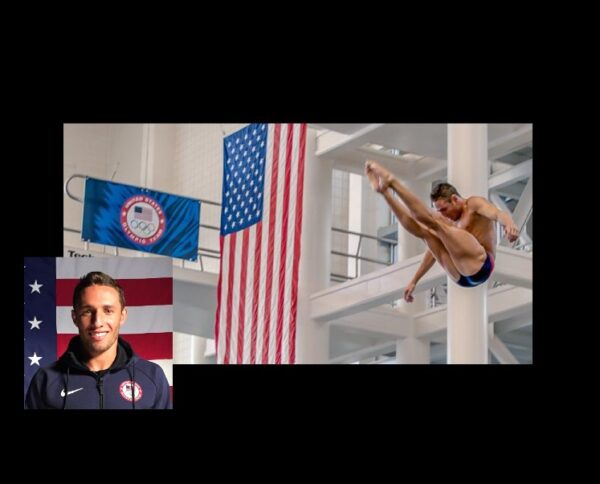 Sam Dorman
Representing the USA at the 2016 Rio Summer Olympics, Sam Dorman, along with his diving partner Michael Hixon, won a Silver Medal in the 3-meter springboard diving synchro event. Dorman was a member of the USA National Team from 2013 through 2018 and is a seven-time springboard diving National Champion (five in synchronized 3-meter, one in 3-meter, and one in 1-meter).
Born in Tempe, Arizona, Dorman began springboard diving when he was eight years old and started participating in diving competitions one year later, winning his first diving Nationals at the age of 15.  By the age of 22, he was a member of the USA team at the 2013 University Games, held in Kazan, Russia. At the 2014 AT&T National Diving Championships, Dorman won three Gold Medals; in the 1- and 3-meter springboard events, along with the 3-meter synchro event (partnering with Zac Nees). The following year, in 2015, as a member of the University of Miami diving team, Dorman won the 3-meter individual springboard event at the NCAA (National Collegiate Athletic Association) Swimming and Diving Championships and is the current record-holder for that event. He was a Silver Medalist in 3-meter synchronized diving at the Summer 2016 Rio Olympics Games representing Team USA, a 2017 Diving World Series Medalist, and a 2018 Diving World Cup team member.
Dorman attended the University of Miami where he obtained an MBA degree in 2020. Today, Dorman resides in Nevada and is a Research & Development Engineer for Duraflex International.
Trampoline / Tumbling Legend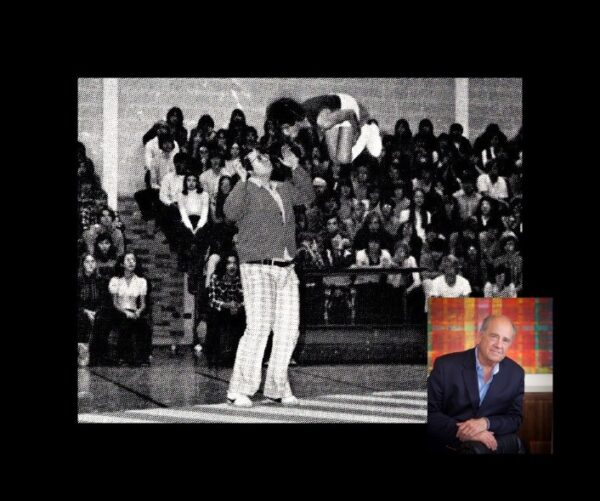 Neil Godbey
In 1970, Neil Godbey began teaching gymnastics at a YMCA in Toledo, Ohio. He eventually opened his own gymnastics club in 1972 called Gymworld, with sole purpose to create a national trampoline and tumbling program and team. Two years later, Gymworld hosted the 1974 National USTA (United States Trampoline & Tumbling Championships. From 1972 to 1980, Godbey's coaching produced 57 individual Senior National and Age Group National Champions as well as the 1976 and 1978 FIT (Federation International Trampoline) World Tumbling Champion.
Godbey founded The Gymworld Summer International Training (1974 – 1978), with participation from competitors from around the world. Notable athletes attending included Kevin Ekberg, Steve Elliott, Jim Bertz, Eddie Goodman, Liza Podigal, Lori Davidson-Aamodt, Kevin McKee, Mark Gilliam, and Robbie Bollinger.
Entering the international arena, Godbey was the first U.S. coach to obtain the International Certificate to judge sport acrobatic tumbling; judging in the Moscow International Sports Acrobatic Federation (IFSA) Championships from 1975 to 1978. He was selected USA team coach for the 1975 IFSA World Championships, Moscow, Russia, and head coach of the USA Senior Tumbling Team at the 1976 FIT World Championship in Tulsa, Oklahoma, where his athletes medaled: Jim Bertz, Gold; Eddie Goodman, Silver; and Kevin McKee, Bronze. He traveled to South Africa as coach of the USA team to compete in three competitions and locations in trampoline, tumbling, and double mini-tramp. In 1977, Godbey received the James Rozanas Coach of the Year award.
Neil Godbey retired from coaching in 1981 and is now President / CEO of The Godbey Group and Chairman/CEO of the Advanced Plan for Health, located in Irving, Texas.
Extreme Sports Legend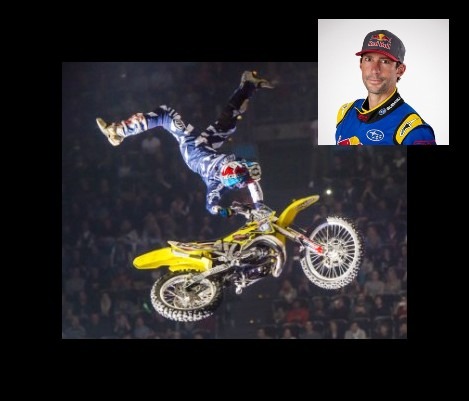 Travis Pastrana
X Games champion, Supercross & Rallycross champion, Freestyle Motocross star, and stunt performer, Travis Pastrana first started riding a motorcycle at the age of four. Since then, he has created some of the world's most memorable moments in the history of extreme sports.  One of those moments involved jumping the fountain at Caesar's Palace in Las Vegas.  His double backflip on a motocross bike became legendary in the X Games when he won the "Moto X Best Trick Competition" in 2006.  In 2010, Pastrana set a world record by jumping a car ramp-to-ramp spanning 269 feet and breaking the old record by almost 100 feet.  Among a number of other accolades, he accumulated an impressive 17 medals at the X Games (11 of them Gold) plus 5 more Gold Medals from the Gravity Games.
Pastrana's commitment goes way beyond winning competitions and paving the way for other extreme acrobats and adrenaline junkies. It is his way of life. Pastrana even transformed his backyard into "Pastranaland", a one-of-a-kind playland where practice, fun, and competitions thrive.  His constant drive is to take everything a step further and he has a personal goal to continue making the impossible possible. Pastrana created the Nitro Circus, an extreme sports show that has been touring for a number of years worldwide.  His Nitro Circus athletes are exceptionally well versed in flipping bikes upside-down in new extreme and exciting situations. Pastrana is a relentless advocate for the forward progression of action sports and continues to surprise his many fans.
Pastrana's profound success continues in extreme sports and is shared with his wife Lyn-Z and two daughters, Addy and Bristol.
Charlie Pond Service Award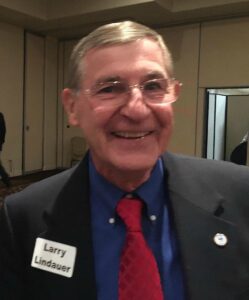 Larry Lindauer (1943-2020)
Larry Lindauer was a longtime World Acrobatics Society (WAS) member and Board Member. He served as Vice-President for over five years as well as provided valuable support for WAS initiatives and events. His commitment and positive contributions were vital to our organization's achieving its numerous milestones and goals.
Lindauer attended Southern Illinois University's (SIU) University High School while working out with the SIU gymnastics team. He graduated from SIU with a BS degree in Education and often served as an unpaid assistant coach under Southern Illinois University coach Bill Meade; stepping in when needed and enjoyed spending time with the gymnasts while they were working out or competing.  For several years he was a certified gymnastics judge in the southern Illinois area.
Initially employed as an Assistant then, Associate Professor at SIU-C in Health and Safety until 1983, Lindauer relocated with his family to Saudi Arabia, accepting a position as an Associate Professor in the School of Science & Medicine.  In late 1991, the Lindauer family returned to the USA and settled in southern California.  Larry soon became an entrepreneur in the art and picture framing business in Wood Ranch, CA.  He operated that business for 10 years until the family moved to Meridian, ID in 2003.
Larry's love of gymnastics led him to the World Acrobatics Society, where he enjoyed supporting WAS and attending the annual WAS Congress, and the opportunity to meet up with his many friends in the gymnastics and diving world.