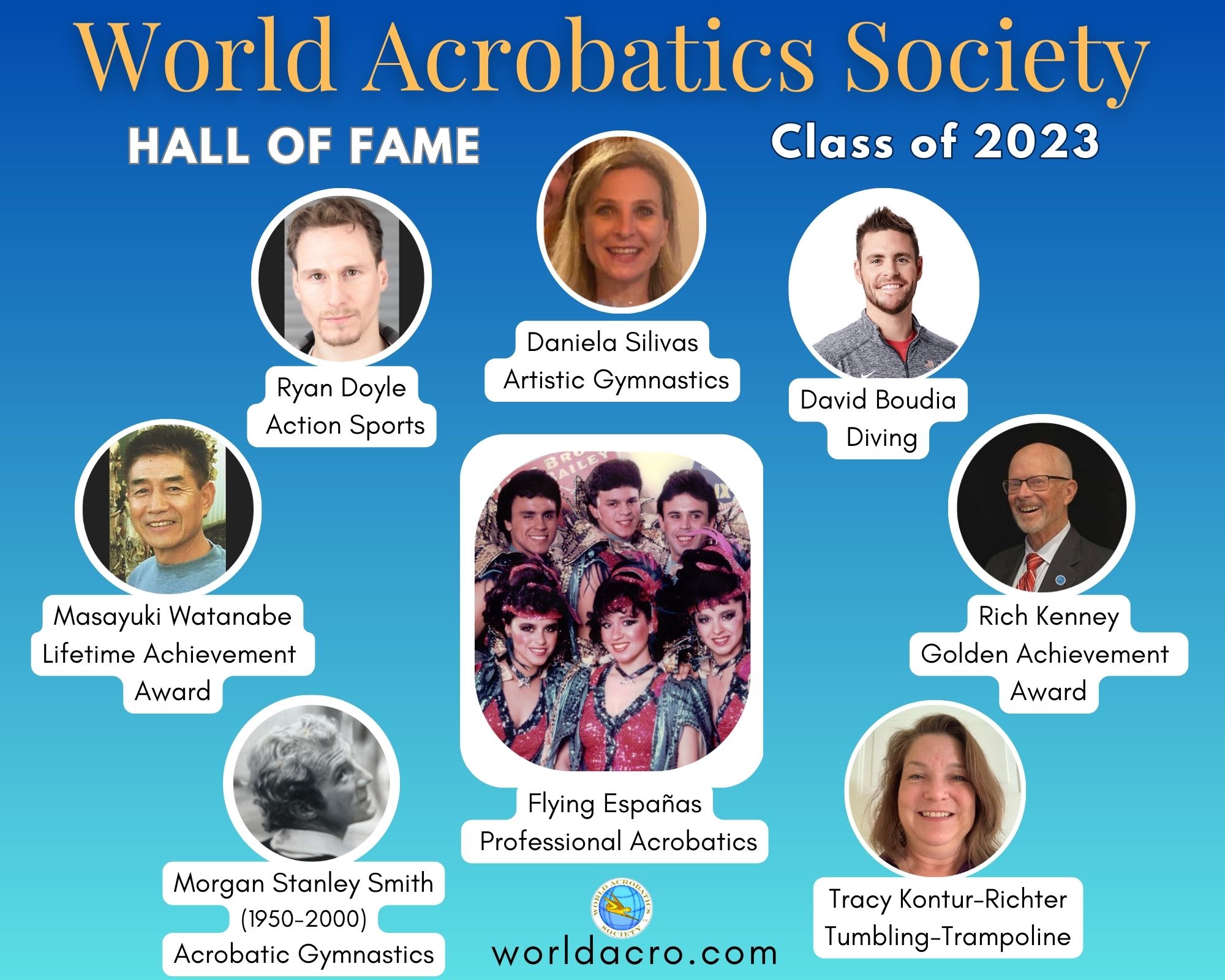 Announcing the World Acrobatics Society
2023 Hall of Fame Inductees
April 15, 2023 – The World Acrobatics Society (WAS) announces its class of 2023 who will be inducted into the WAS Hall of Fame. The induction ceremony will be held on September 9, 2023, at the Tuscany Casino & Suites in Las Vegas.
These outstanding individuals have been selected for their excellence in their specific disciplines, with many continuing to stay involved in a professional and exemplary manner. In addition, they have contributed to society and the growth of acrobatics on a national and worldwide basis
ACROBATIC GYMNASTICS - Morgan Stanley Smith (1950-2000)

ACTION SPORTS – Ryan Doyle

ARTISTIC GYMNASTICS – Daniela Silivas

DIVING – David Boudia

PROFESSIONAL ACROBATICS – Flying Españas

TRAMPOLINE/TUMBLING – Tracy Kontur-Richter

GOLDEN ACHIEVEMENT AWARD – Rich Kenney

LIFETIME ACHIEVEMENT AWARD – Masayuki Watanabe
These honorees will join the 300+ individuals from around the world who have been inducted into the World Acrobatics Society Hall of Fame.
JOIN US in honoring these talented individuals at the World Acrobatics Society 2023 Congress & Hall of Fame Banquet, September 8-10, 2023, at the Tuscany Suites & Casino in Las Vegas.
We hope to see you there!