Nomination Information for
Hall of Fame - Gallery of  Legends - Awards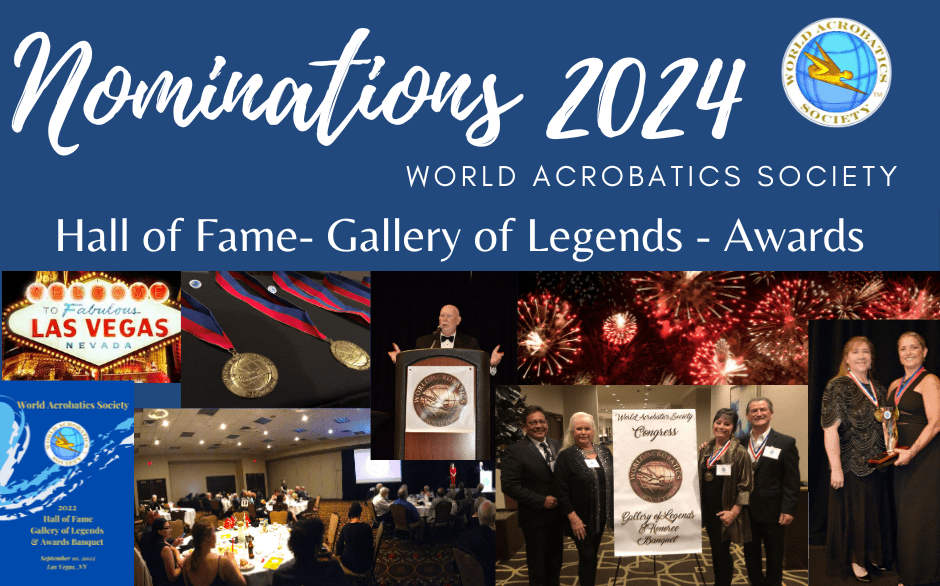 NOMINATIONS WILL BEGIN
DECEMBER 1, 2023
and will close
February 15, 2024

5 Things - - You Should Know
Before Submitting Your Nomination 
The highlight of every World Acrobatics Society Induction Banquet is watching inductees receive their well-deserved recognition. 
If you have someone in mind to nominate for the big event, here's a quick guide to help you plan ahead.
1

. Important dates:
The WAS Congress & Induction Banquet will be held: on September 7, 2024.

Please make sure both you (the nominator) and your inductee are available and have the 2024 Congress dates saved.

The official nomination forms are available on this website (please scroll down to find them below).

The nomination period began in December 2023 and closed on February 15, 2024.  

The final selection of inductees is scheduled to be announced in April.
2. Membership:
Only current paid-up members of the World Acrobatics Society can submit a nomination,
All memberships run from January - December. So, make sure before you nominate someone that you have renewed your membership for that year. To verify your membership status, contact:

[email protected]

    Or

join/renew you

r

membership HERE

The person you are nominating does not need to be a current WAS member. If they are selected and inducted, they will receive a one-year complimentary membership in WAS.
3. Criteria:
There are several nomination categories to choose from which include Legend, Golden Achievement, Lifetime Achievement, Acrobatic Excellence, and the Charlie Pond Service Award. Within the Legend category, there are six distinct disciplines: Acrobatic Gymnastics/Cheerleading, Artistic Gymnastics, Diving, Action Sports, Professional Acrobatics, and Trampoline/Tumbling. Make sure you check you are using the correct official nomination form provided for each category.

There are specific criteria for each award category that will serve as a guideline letting you know what a Legend or Award recipient would ideally fulfill.

The only method of making a nomination is online via the WAS website.
4. Required Information & Materials:
You (the nominator) have the responsibility of working with the committee head and guiding your nominee, to ensure that your nominee makes a successful trek through the complete process from nomination to induction; providing adequate materials as needed for a proper presentation.

Step 1: You (the nominator), must complete the online nomination form. 

This will include:

>- A biography of the individual (a maximum of two pages) or/ appropriate internet links that support their qualification for the award. 

Step 2: Following a review of your nomination, you will be contacted for further information. Such as providing a photo; either action or portrait and supporting documents.

>- If selected for induction, you and/or the individual must then provide adequate materials (pictures, certificates, videos, etc.) for inclusion in a presentation video of the nominee, that will be viewed at the WAS Congress and Induction Banquet in September.
5. Questions:
If you have any questions or need additional information either now or during the nomination process, contact Stacie Hansen, WAS Gallery of Legends - Hall of Fame (GOLHOF) Administrator/Chair at: [email protected]
We look forward to celebrating and welcoming the class of 2024!