World Acrobatics Society 2023 Congress & Banquet

Download a PDF of this information
REGISTRATION & PAYMENT HAS MOVED TO ON-SITE ONLY
Meet our 2023 Hall of Fame inductees
Friday, September 8th
 3 -5 p.m.     WAS Executive Board Meeting (Rotunda Board Room)
7-10 p.m.     WAS Welcome Reception (Tuscany/Siena Room)
Join us - - to meet and welcome the Class of 2023 inductees. There will be photo opportunities and drawings for special gifts - - you won't want to miss this fun event!

Check-in and pick up your Congress Access Pass.

Hosts: WAS President, Scott Crouse, and WAS Board Members.

Includes ticket for one free drink, light hors d'oeuvres & cash bar. Casual dress is suggested.
Saturday, September 9th
8-9 a.m.      WAS Congress & Banquet Sign-in (Foyer outside Tuscany/Siena Room)
Check-in and pick up your Congress Access Pass.  ***Your pass is required for admittance to all Congress presentations and the banquet ***
9-11 a.m.      WAS Annual Membership Meeting (Tuscany Room)
Everyone is invited, but you must be a current/paid member to participate in voting.
1-3:30 p.m.    WAS Congress Presentations (Tuscany Room)
Meet the Legends - Q & A - - Featuring our Class of 2023 honorees; giving each time to share more about themselves and what contributed to their outstanding accomplishments.

Guest Speaker: Victor Bevine, Co-Founder/CEO, World Freerunning Parkour Federation (WFPF); Co-Founder, IPF; novelist (CERTAINTY); acclaimed audiobook narrator; Board Member, Federation Internationale Sports pour Tous; Ambassador, Books for Peace.

Topic: "Know Obstacles, Know Freedom – the Unique History and Culture of Parkour"
 6–7 p.m.     WAS Banquet Reception Hour (Florentine A & B)
A cash bar will be available.
7 p.m.           WAS Gallery of Legends - Hall of Fame Banquet (Florentine A & B)
Men: Coat & tie (black tie optional), Women: appropriate evening attire.
Sunday, September 10th
9-11 a.m.        WAS Board of Directors Meeting (Tuscany Room

)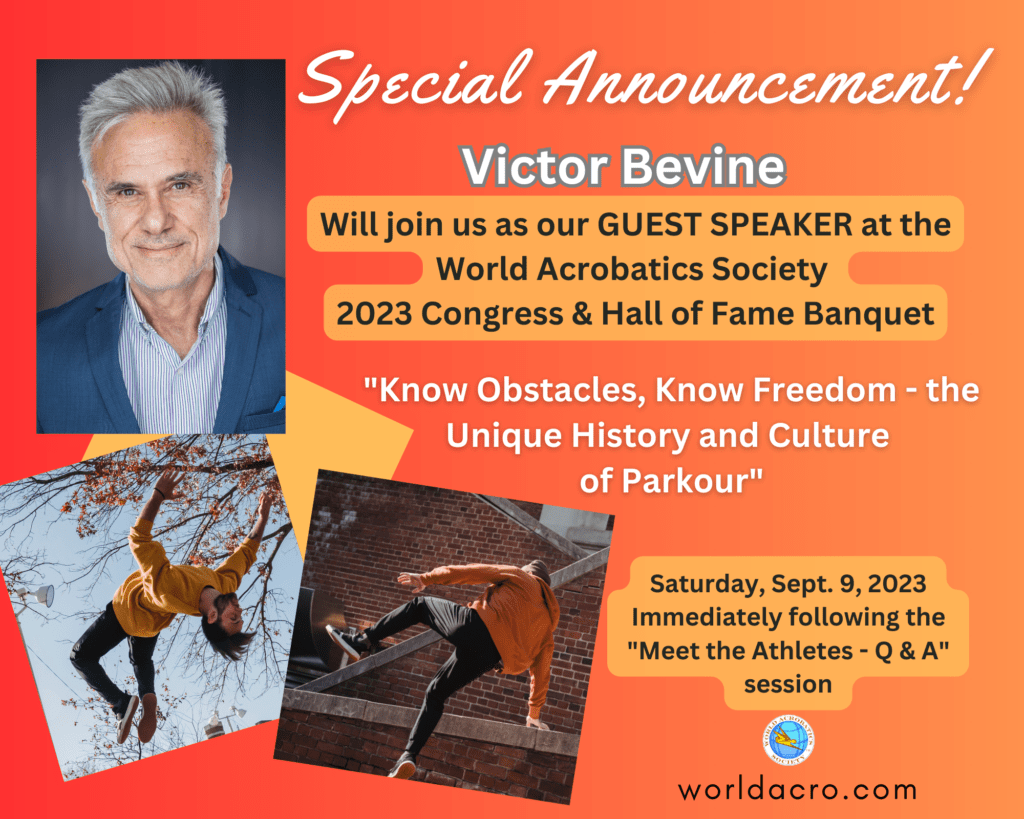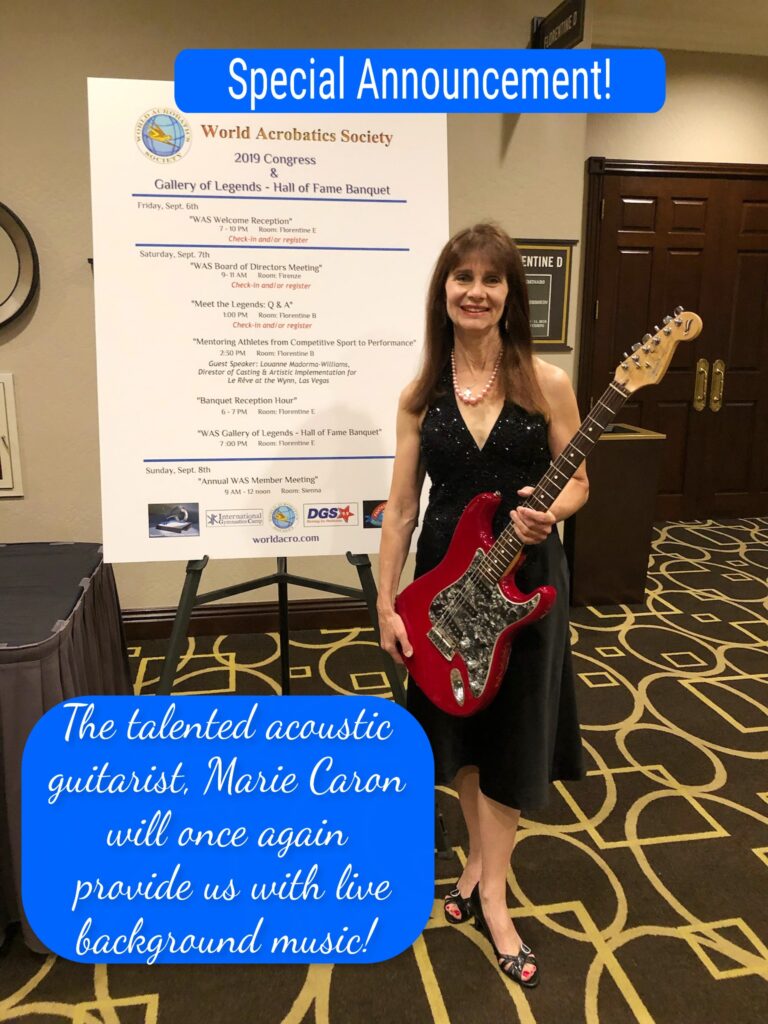 Congress Costs & Hotel Information
WAS Congress -
As of Sept. 4, online payments will no longer be available. After Sept. 4, payments will be accepted on-site, at the door ($130/person). Choices for dinner entrees will be limited.
INCLUDES:

Friday: Welcome Reception

Saturday: Membership Meeting & Afternoon Presentations

Saturday: Gallery of Legends – Hall of Fame Reception & Banquet
Hotel Information:
Location:

Tuscany Suites and Casino - - 255 East Flamingo Road, Las Vegas, Nevada 89169

Hotel Telephone: (702) 947-5925

Special room rates:

Special Friday & Saturday rate is available only until August 14, 2023

 Room reservations:

By phone: 1-877-887-2261, and ask for the "

World Acrobatic Society

" group rate.                                     
Download a PDF of this information
Register & Pay ON-SITE ONLY
Meet our 2023 Hall of Fame Inductees